Arguably the most famous graffiti artist to ever lift a spray can, Banksy seems to often find himself in a difficult spot. Whether it's the numerous (fake)copies of his work available for purchase in any market in London, or people knocking down walls to get hold of his originals, the price for his anonymousity is that others profit from his work on a daily basis. In a now bizarre turn of events the subversive artist who would get buffed out instantly to quell his political statements, is now not only supported by the Government he opposes, but protected by it as well.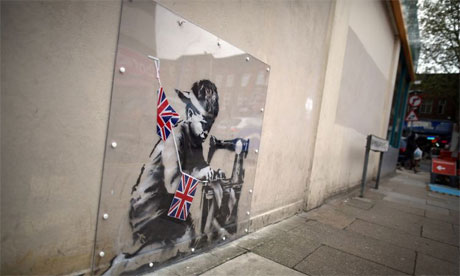 See above the protective casing for Banksy's latest piece.
Continue reading my thoughts after the hop:
Banksy's latest piece, just in time for the London Olympics, shows a small child working as slave labour creating Union Jack bunting. Not something you would think the government would be too keen showing off to the hordes about to hit the city. So why take this stance? Here are my thoughts on the matter…
The first thought that came to mind was the old adage; "If you cant beat them join them". With a now long and illustrious career, it is clear that Banksy is no ordinary yobo with a can in hand. The man has brains, not only the brain to come up with a continual slew of satirical wit but also to pull off some of the biggest graffiti "heists" in history. Including the Disney Land Guantanamo bay stunt as well as replacing paintings in some of London's biggest galleries with his own modified replicas. I just cant see them stopping him anytime soon. So if you can't silence the voice, then why not pretend to agree with it. Protect the piece which openly slates governmental procedure and surely you diminish the sting, it seems to change the piece from hard hitting graffiti to just another quantifiable artwork.
The other aspect then surely has to be profiteering. There is no doubt that the infamy of Banksy has created astounding worth around the pieces, people flock from the world over to see an original Banksy. So why not cash in on it?
While I am never one to back the government on things of this nature, I have got to feel like the Londoners hit its so perfectly with this. What do you guys think?
Dig This? Check These:
One Comment to